Marianne was my swap partner for the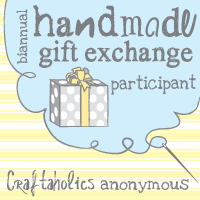 Thanks SO MUCH to Linda for hosting such a fun fun fun party. I love going over to her
blog
and checking out all the other lovelies that the other participants have shared with each other. When Marianne and I swapped emails back and forth she told me it was her birthday this month so I knew exactly what I wanted to make for her, and here it is.
Its aqua, blue and yellow, and its CHEVRON!! I love it!! I love it so much I even made one for my Etsy shop!
Marianne, I hope you enjoy your birthday banner and I hope you have a Happy Birth Month!!