Popping in to say Happy Valentines Day to y'all! And to give a few shout outs.
#1 Shout out goes to CORTNEY! She reminded me of where I foundthe idea for the cute-o Valentine cards I did for the boys...
http://thecraftmonkey.blogspot.com/2011/02/valentines-are-done-man.html
#2 Shout out goes to Jen @
Tatertots & Jello
she is having a $50 give away to
Maya Road
. Stop by and check it out...Both places have GREAT stuff, Jen has great tutorials, and crafty ideas, and Maya Road has all the materials to help you complete the projects. :)
#3 Shout out goes to Linda @
CraftaholicsAnonymous
she is having her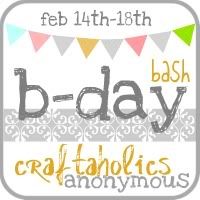 with giveaways and fun stuff going on, geaux and check it out.
That's is it for my shout outs.. Hope everyone has a Happy Happy Valentines Day...XOXOXOX