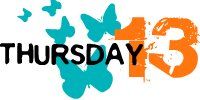 Today topic is :13 of your favorite ways to spend time.
I tweaked mine to show you how I am spending my time these days, not necessarily my favorite all time..
13.
Reality TV! Mini-Jersey Shore!

Yes, I know it is sucking away my brain cells one at a time but I cannot get enough of trashy reality TV- Jersey Shore, Real House Wives of Wherever, Dancing with whatever celebrity, The Voice. Yes, my DVR is very busy.
12.
Babies on the brain!
I gotta kick this habit! Brian and I are DONE having babies!
But I even have a Pinterest board devoted to "reasons to have a girl"
I still think about have a baby girl, REALLY want to have a baby girl sometimes, but then I get back to reality.
11.
Yes, this is the puzzle piece symbol that is used specifically for Autism, and although I don't only teach children with autism I love its message.
The children I teacher maybe different but they are certainly not less!
I try to find a piece of time everyday, no matter if it was a trying day or not, to pray for, to think about, or to do something for, the fight for these children to be accepted by their peers, and society in general.
10.
I love to plan a good party.
From theme, invitations, decorations, to theme foods, down to clothes to wear.
I love love love to plan a party.
I spend lots of my time doing this for friends!
9.
I admit it I am an addict. But you know you are too. Just admit it!
I will spend hours, even though I am ashamed to admit that finding inspiration from here.
8.
I love to craft with whatever EXTRA time I have.
I have not made crazy cute projects but some of them have been pretty cute in my opinion.
I do enjoy the process!
7.
I am in LOVE with my Kindle.
How or why I ever read a book without one is beyond me. I seriously love mine.
I am reading more now than ever. Its how I spend A LOT of time. Reading, reading, reading.
6.
At this time I am totally in to planning our upcoming trip to Disney World.
I love looking at the resorts, dinners we can plan, rides we can go on.
I love sharing these with the boys too.
( I might be slightly on the obsessive side with this)
5.
NOLA, proud to call it home!
We love to spend time being tourist in our own home town.
Going to different restaurants, hanging out at different night spots,
bringing the boys to the zoo, aquarium, children's museum.
Finding unique places to shop that are locally owned. Anything to bring back our city.
4.
You knew this would be on the list!

I love anything to do with our tigers! I will watch Football, baseball, basketball, gymnastics, golf anything. to do with LSU
Love Purple, Live Gold!
Geaux Tigers!
3.
BLOGGING!

Seriously, I love to blog. It is therapeutic, it lets me vent, express myself. and gives me an outlet.
It has also allowed me to meet the MOST AMAZING group of people ever!
Just plain ole' PLAYING with my boys.
Cars, trucks, puzzles, painting, play-doh, wrestling on the floor
whatever they wanna do is fine by me.
2.
Spending time with these people.


a few of you are not pictured, and you know who you are, but this is the best pic I could find :)
1.
Being at home with all my boys