I have been dealing with migraines everyday for the last week and its really been taking a toll on me. In between work and the boys the blog has take a back seat to everything. I dont know how all the great ones do it. Manage home, work, kids, etc and have such great blogs. They are my inspiration though. So I will just keep on trucking along. I am hoping to get started on Ben Henry's b-day party decor this weekend. We have only 3 weeks until his party. I cannot believe that he will be a year old. That is unbelievable to me. I ordered his invites yesterday and am waiting for a final proof before I post them here.
Thanks to those who have stuck around and hopefully
after this weekend and the blog hop over at
The Girl Creative
I will gain a few more followers...join in on the fun over there....
Post a link to your blog and hop over to a few others...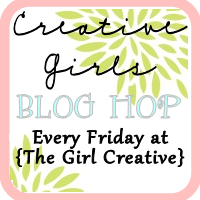 Enjoy the weekend..
and Happy Mardi Gras to all my NOLA friends!